Introducing our booths...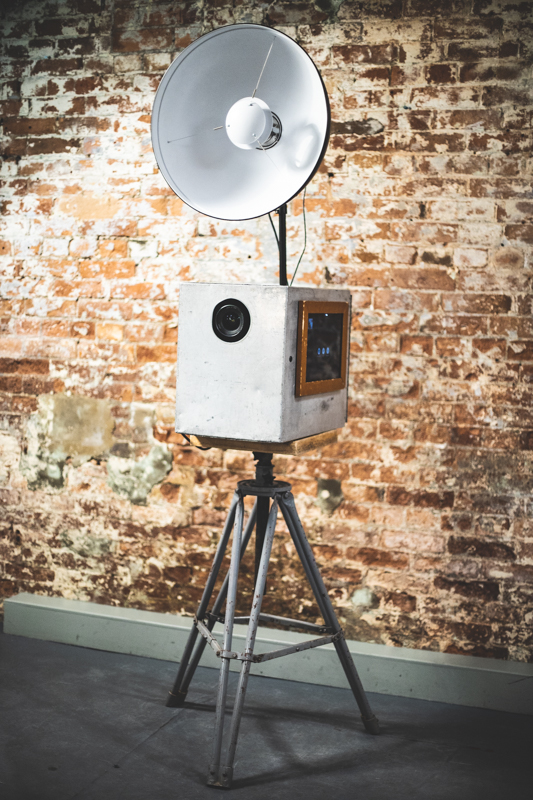 Think Brienne of Tarth meets satellite dish and you have Britannia. She's been lovingly crafted from a very heavy duty sculptors tripod support and an old Britannia Airways flight carrier box. She's industrial and majestic and houses the latest gear and the printer. Prints pop out of her bottom.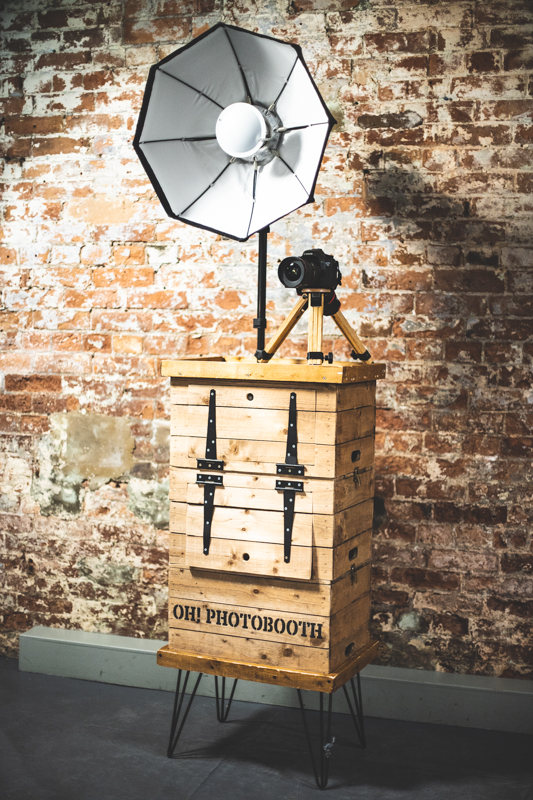 Our original photobooth, affectionately nick-named The Beehive for obvious reasons. Made from a stack of vintage apple-crates atop industrial steel hairpin legs, it houses all the latest gear and printer. It's rustic and charming. Prints pop out of it's side ready for guests to take home.
Ok, I love them, I want one, what do I get?....
EVERY HIRE INCLUDES AS STANDARD:
One of our handcrafted vintage Photobooths (As Seen Above)

3 hours running time

Your choice of backdrop from our classic backdrop collection

Our fantastic prop trunk, full of quirky stuff, antique finds and no tat

Extremely brilliant photobooth attendant

Two copies of each print (each print is a 6x4 inch photo with four little photos on it)

Guestbook management (you provide the guestbook, we look after it and ask your guests to stick their photos in)

Unlimited trips to the booth on the night

On-line, password protected gallery. Share with your guests if you like and they can download free of charge after the event

Edited, high resolution images on USB posted to you after your event
Please get in touch for a quote for your event.
Why choose us?
Ok so there is definitely photobooth mania at the moment and hence lots of new photobooth companies out there. We don't mind this and have some great friends in the industry. But we will say this, you get what you pay for. We may not be the cheapest, but we are:
100% reliable - We will be there.

Experienced - We've been running photobooths for six years now, we know what works and what doesn't

Friendly and Upbeat - We will not stand there aimlessly, whilst guests pass us by, we encourage your guests to get involved. We are lively, animated and enthusiastic. We are professional and care about customer service, even when people have had one too many.

Stylish - Our photobooths are NOT ugly, and certainly not fugly either. No plastic and no tacky here. Our props are cool and our staff are smart.
What our clients say....
"Can't praise OH! highly enough.
Jack was great all night and the booth was well received by all our wedding guests. Jack and the booth bought a fantastic fun vibe to the evening reception and was a real highlight. The resulting guestbook had my wife and I in stitches.
10/10 would hire again." Adam, Aug 2019
"WOW guys!! Thank you so so much for an enjoyable evening, the guests were super entertained throughout the evening and the photos are just amazing -fun and the quality is impeccable. The lady operating on the evening was an absolute sweetheart and my guests (and I) LOVED her…The booking process was really easy and friendly to boot! I cannot recommend Oh Photo Booth enough!" Claire & Ollie, Aug 2019
"This was so fun for our wedding and the photos in the guest book are hilarious! Jack is also so lovely and really gets all the guests going. Would highly recommend!" Emma, Aug 2019
"We had the pleasure of Jack at our wedding and he was kept busy all evening. All our quests had loads of fun… highly recommend for any event, lovely man smiled from the minute he got there till the minute he left us and fab photos thank you" Noeleen, June 2019
"We can't thank Oh Photobooth enough for adding some extra awesomeness to our wedding! Jack was superb at getting everyone involved, and the photobooth was a hit with everyone - excellent entertainment for the kids and the drunken wedding guests alike!
Would 100% recommend! Thanks Jack!" Andrew, June 2019
"We booked Jack and Oh Photobooth for our wedding in May 2019 and it was the best decision ever. We and the guests had so much fun and the pictures are amazing. Jack was so lively and getting all our guest involved in dressing up and being silly. This is such a great addition to the wedding day. Thank you Jack for being such a fun part of our special day" Lorraine, June 2019
"Used for a clients corporate celebration and they were 5 out of 5" Kimberley, June 2019
"We made a very last minute decision to include a photo booth in our wedding day celebrations & after seeing reviews for Oh Photobooth, I was delighted when they had availability for our date!
Joey did not disappoint! He arrived & set up without disruption & once he was ready for guests the fun truly started! Joey was so amazing on the day, helping kids find their ideal props from the great selection he brought along & making sure all our guests got full use of the booth.
If anyone is debating getting a photobooth for their wedding/ party, book Jack & I promise the memories & photos provided will be the funniest you have from the day! Thank you Joey!x" Robyn, May 2019
"We had Oh Photobooth at our wedding a few weeks ago and it was a real highlight of the evening!
We first saw Jack at our taster evening at the West Mill and I am so glad we ended up hiring one of their booths. Our guests loved it and Jack was really friendly and enthusiastic. Thanks again for a great evening!" Abbey, May 2019
"We had Joey with us for our wedding a couple weeks ago. Honestly we had so much fun! Joey was so brilliant at making it more fun for us by encouraging the most craziest costumes. His positive energy created a fantastic atmosphere for all the guests. Thanks again guys we loved it x" Soraya, April 2019
"Absolutely fab, had the photo booth at our wedding and the guests couldn't get enough of it. Not just the props and the look of the booth but also Jacks enthusiasm. Thanks for being a part of our day 😊👍" Emma & Liam, April 2019
"Jack was amazing at our wedding just last Thursday! We all had so much fun and the guests loved it. We received the USB in the post really quickly and had such a laugh Looking back through the photos! Thanks so much!" Laura, March 2019
"The energy and enthusiasm he puts Into his work is just great, and we received no end of compliments on the night of 'the photo booth is great' 'jacks amazing'! Thank you so much for bringing your A-game, we would recommended you highly to all! 5*!" Ben & Jess, March 2019

"Couldn't have possibly had a better Photobooth for our wedding! Jack did an amazing job, so enthusiastic and did the best job of getting all of our guests involved in the fun! Thank you so much, highly recommend!" Stacey, November 2018
"…the guys who run this make the difference - making sure your guests have an amazing time which definitely shows in the pictures!!!" Ben, November 2018

Absolutely amazing! Every single one of our wedding guests have been raving constantly at how fantastic Jack and the photobooth experience was. What was really fabulous was that it was an accessible activity for all ages and abilities so nobody was excluded. Definitley would book again for other events. Couldn't have asked for anything better!! Thank you so much" Claire & Simon, November 2018

"Jack was brilliant at our wedding, so much enthusiasm and fun. The set up didnt take up much room and looked great. Our USB stick and online gallery were able to view very quickly. Any emails and questions were answered. Would definately recommend Jack and his team! Thanks once again Jack 📸 " Gail, October 2018
"We hired Oh Photobooth for our wedding which took place on 21st July 2018. What can i say apart from WOW! Our guests had an absolute blast, they couldn't have been more helpful and glowing reviews came from everyone. It felt so unique and was made to feel fun which is exactly what a Photo Booth should be! I would have no hesitation in hiring these guys again or recommending them to anyone!" Jo, July 2018
"Jack came to our wedding on Friday and it was a real highlight of the evening. All of our guests had great fun and are still talking about it now! Jack was a great host and had excellent pace to ensure all of our guests had a chance on the photobooth. The props were original and quirky and everyone had such a good time!!! Thanks again for everything" Mikaela, July 2018
"We had Joey looking after us at The West Mill on 25th May. He was fab, great guy, good selection of props and we had so much fun. I spent most of the evening in the photo booth…" Aisling July 2018
"Jack and his magical box(es) of props came to help me celebrate my 21st in style. I honestly think the photobooth and the absolute ANGEL running it made my party the best I've ever hosted. Everyone got involved, even my camera shy 80 year old Granny! Jack had us racing to change props, try new poses, and generally just becoming beaming sweaty messes as we all had an absolute blast.
I can't recommend them enough, I was like a proud mum all night when ~everyone~ came up to tell me how much they loved the photobooth. 11/10, what an amazing night." Miriam, July 2018
"We hired Oh! photobooth for our charity ball. They were extremely helpful with all the arrangements. Jack was just fantastic, he made everyone want to have a go, he was really lovely and couldn't do enough for us to make the event fun for everyone. Would highly recommend them and will definitely use them again." Rachael, Birstall BAGs May 2018 Charity Ball
"The best thing ever.
We asked oh photobooth to be a part of our wedding and it was definitely a talking point. All our guests loved it and we have some amazing photos from it. Jack was brilliant. Made everyone get involved which was so funny to watch. I can't recommend oh photobooth enough. It's a must at any event." Ashley, April 2018
"Jack and Joe were absolutely fantastic! We hired them for our wedding and they made a wonderful impact. They were super excited about their work and got all the guest excited as well. The pictures were stunning and everyone had a huge laugh with the wide variety of props and the fun atmosphere Jack and Joe brought.
We would highly recommend them for any sort of celebration, especially where the guests are highly excitable!" Chris, April 2018
"Oh Photobooth were fab, the booking process was easy and my emails were always responded to quickly! As for on the day, it was just brilliant so much fun had by all and Jack is a star at getting people involved and has boundless enthusiasm. You need this at your wedding people!!!!" Sally, March 2018
A-mazing! We hired Oh! Photobooth for our wedding on the 18th February and we could not have been more impressed! The booking process was easy and friendly (just what you need when you have 100 things to tick off your list). Jack was great on the day, everyone said he was friendly, fun and welcoming.
He encouraged everyone to get involved and as a result we have fabulous images which will always remind us what fun we had! The guests having an instant print is fab, many of our guests have told us it is already on display in their house.
We would highly recommend this company for people who want a fabulous, friendly, personal and professional service! Jodi, February 2018
"Absolutely fabulous at a family members wedding we went to this Sunday, such fun and charming service! great would highly recommend" Nicola, February 2018
"Hired the team for my 40th and they did not let me down....me and my guest are still talking about how much fun we had and the memories we have made. Great work team, brilliant energy and customer satisfaction!" Dipesh, February 2018
"Absolutely amazing, best decision we made to hire Jack. So many people told us how much they loved the photobooth and Jack's infectious personality. Thank you!" Jane & Tony, February 2018
"The only mistake we made in booking Oh! Photobooth was even thinking about booking anyone else!... Jack went above and beyond the normal "say cheese" and had our guests racing back and forth to the massive table of props, keeping everyone entertained and in fits of laughter" Michael & Mark, September 2017
"We had a brilliant day and the photobooth was definitely the cherry on top - all our guests commented on how much they loved it" Briony & James, June 2017
"These are ABSOLUTELY AMAZING! Such high quality pictures and some amazing moments! Can't thank you and Joe enough" Emma & John, June 2017
"Just an email to say thank you for everything! The booth was amazing! Everyone really enjoyed it you guys were brilliant at getting everyone involved & making sure they wrote in the guestbook" Katie & Thomas, May 2017
"Thank you so much for these Emma. We really enjoyed having the photobooth and so did our guests. What a fantastic set of pictures!" Becky & Adam, May 2017
"Honestly it was one of the best, most used, things we booked and to have these memories for life (particularly those of my dad, my grandad, both whom I would never have thought would have taken part) will remain special to me" Naomi & Matt, April 2017
"Thanks very much- Jack was great on the night. Everyone said they didn't know a photo booth could be such a workout!" Katie & Warren, April 2017
"Thank you so much! It was great fun everyone enjoyed it very much! The pictures all look great!" Lauren & Callum, April 2017
"Thank you so much, we had the best time, everyone loved the photobooth and had loads of fun. We'll recommend you to as many people as possible" Katy & Rich, March 2017
"It's all perfect thank you, everyone loved it and the pictures are fantastic!" Lauren & Rose, February 2017
"Many thanks for providing a fantastic service" Ellie & Craig, February 2017
"Thank you Emma, everyone loved the photobooth and I'll definitely be recommending you. The pictures are great" Hayley & Stuart, December 2016
"We had an amazing day and the photobooth was a fantastic addition. I can't tell you how many great comments we have had about it" Samantha & James, November 2016
"Everyone really loved the photo booth and said it was the best one they had used" Sally & Donny, November 2016
"It was wonderful! Thanks so much on your part! Everyone really enjoyed the Photobooth! Like LOVED you guys!" Lauren & Matt, October 2016
"All our guests loved the booth. They said it was so fun. The kids had a really good time! And we have some super funny photos to look back on :-D Thank you to your team. You guys are awesome!" Nadine & Neil, September 2016
"I just wanted to say a massive thank you to you for the photobooth at our wedding on Sunday. All the guests said it was the best photo booth ever, and I totally agree! Jack was incredible, just the nicest person, and really good at handling some of the people who had had a few more drinks than they should have:) Because of him Chris and I have the best guest book, we cried laughing at the photos. Thanks for everything!" Kate & Chris, September 2016
"The photo booth was absolutely brilliant and such a great addition to our day. So many people commented on how good it was and how much better it was than others they'd seen. There were many shouts of 'where's the horse's head' and I think one of my favourite moments was my sister and bridesmaid asking Jack how quick the timer was, to get the response 'there isn't a timer, it's just much more funny'! Jack was brilliant-so enthusiastic, fun and energetic throughout the night. As my husband said-a top man!" Becky & Will, July 2016
"Thanks very much for providing the photobooth at our wedding on 28th July, it was fab and Jack did a cracking job, everybody loved him, what a star" Jenni & Kevin, July 2016
"Jack was amazing at getting us to pose and people loved him! Thanks so much for creating such a fun booth for us." Anon, ssssh secret wedding client, July 2016
"Thanks a lot for providing our guests with hours of fun and entertainment - everyone loved the photobooth! The guy running the booth was lovely too and so much fun so thanks again." Leanne & Jamie, July 2016
"Jack was absolutely awesome – please tell him thank you so much for Chris and I. He really got involved and was so much fun!" Heather & Chris, May 2016
"I absolutely love the pictures from the photobooth! It was a massive hit with our guests and provided so much entertainment! I am really pleased we booked it. Thank you for being so helpful and enthusiastic on the night and getting everyone to have a go. We are still laughing at the photos!" Annie & Anthony, May 2016
"Hello from Vietnam. These are amazing! Thank you so much. We had so many comments about how amazing the photobooth was and we love the photos!!" David & Emma, May 2016
"Thanks so much for the links they are fantastic! We are on out honeymoon at the moment and this has made our night as we haven't stopped reminiscing about the day all week! Thanks so much to you and Jack for all your hard work - our friends and family will just love receiving the links." Megan & Blake, March 2016
"I wanted to say a HUGE THANK YOU for Saturday night. The photobooth was absolutely FANTASTIC and Jake was so friendly and he really got into the wedding spirit. Everybody loved the whole experience." Anita & Savvas, October 2015
"I just want to thank you for an absolutely amazing photobooth! It was a hit and we all loved it, it really got the party going and the pictures are so funny and great in our guest book. Really memorable evening and I will definitely be recommending you to everyone I know." Gemma & John, September 2015